Never be in these states !
IT can be stressful and disheartening for some people.
This leads to rejection and resistance to change.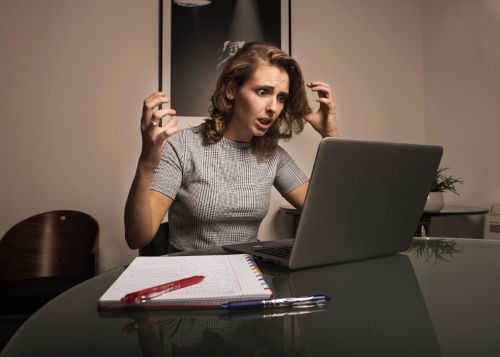 We have spent many years in dozens of companies installing, configuring, repairing all kinds of equipment (firewalls, switches, computers, printers …) and software, both operating systems and third-party programs.
This field experience has enabled us to observe that the mastery of the IT tools made available to users is not always up to scratch. Fortunately, this is not inevitable.
This has led us to create various "training-coaching-workshop" modules, including the "basics of IT in business" and "micro-learning", which quickly bring serenity and productivity to everyone.
In the vast majority of cases, IT is simple and understanding the principles that govern its operation is within everyone's reach.
But you can't teach a rider to gallop before you've taught him to ride his horse!
Following a training course such as Word or Excel, for example, makes no sense if the basics are not acquired beforehand.
First the basics and understanding the principles.

Then the learning of specific technologies.

What is the added value for your company ?

Reduce your IT support costs
An IT partner that solves your problems is good, but an IT partner that helps you to reduce them is better !
Reduce your IT support costs
A significant part of IT support in companies is due to limited mastery of IT tools.
Whether it is the computer and the operating system, third-party applications or other devices that are made available.
These residual tasks are ultimately carried out by professionals, and the services they provide are not only costly but also do not add any value for the company or the user.

Strengthen your IT security
Don't be a victim and learn to avoid the main traps that the internet can set for you !
Strengthen your IT security
The main security flaw in a computer system is the human being. The designers of ransomware, viruses, Trojan horses, etc. have understood this.
If the acquisition of protection equipment and software is a necessity, it is preferable that these systems are never solicited because their effectiveness can never be guaranteed at 100%: the antidote always comes after the virus. In the case of an incident involving an infection, the financial consequences are significant: infrastructure shutdown, loss of crucial data, impact in terms of image, etc.

More serenity and productivity
Be serene behind your keyboard and easily execute what seemed difficult without wasting time!
More serenity and productivity
A significant percentage of computer users are doing "best effort", i.e. what they can to complete their daily tasks and therefore take time to achieve a given result. This is stressful for people in this situation.
Losing even half an hour a day to "tinkering" will quickly add up to several hours a week and several days of productivity a month. These costs are invisible but significant for companies.
Training ? Coaching ? Workshop ?
A user, especially if he or she has a preconceived notion of IT, needs to be supported in order to be able to develop serenely.
Practising, getting your hands dirty, is the best way to show that IT is not so complicated after all.
As with all technical subjects, ex-cathedra training is a necessity to acquire a minimum of vocabulary.
The "basics of IT in business" is the minimum knowledge that any user in a company should have when his or her main working tool is a computer as well as the other devices commonly used (printer, etc.).
How do you know where you stand? We offer a free questionnaire and assessment test !
Some of you already have the basics? Great! Perhaps we can help you with the "micro-learning"? Or other modules available in our catalogue?
Everything is possible: face-to-face at your premises, at our premises, at a neutral location or by video conference.
Whether it's the "basics of IT in business" course or the "micro-learning" course, almost all modules can be delivered remotely.
Nevertheless, we believe that videoconferencing does not replace face-to-face in terms of effectiveness for the coaching and/or workshop part.