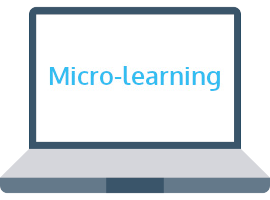 Are you stuck for a result ? You don't want to spend hours reading or watching tutorials on the internet ?
We find solutions !
Whatever you have to do, we certainly have the ability to give you the knowledge to do it in a workshop !
We go to the heart of the matter: no superfluous material to pad out. These training courses are therefore of short duration, as they focus on subjects related to a specific need.
Interested ?
You choose the content !
Are you interested in a specific subject from one of the modules in the catalogue ? Perhaps you just want to understand a concept, an operating principle ? We can extract it and carry out a micro-learning of 30 minutes, 1 hour, 2 hours … Depending on how long you need to learn !
Some examples :
Do you want to edit a video but don't know how ? Don't worry, we'll help you with the first steps !
You need to format a Word document and you've already spent too much time on it to achieve the desired result? Let's speed up the process together !
Do you have to cut out part of an image to insert it into another one? Too easy !
No price,  no prerequisites, no duration :